Set Sail For The Treasures of Shimmer
Test, Play and Earn On The ShimmerEVM Testnet
TL;DR:
The official Treasures of Shimmer testnet campaign by TEA* has begun, featuring two exciting ways to earn a combined total of 1,800,000 $SMR tokens: Test & Earn and Play & Earn! The Test & Earn campaign incentivizes smart contract activity from deployed dApps on the ShimmerEVM testnet, while Play & Earn marks Shimmer's first Zealy campaign.


Ahoy, you scurvy dogs! The official Treasures of Shimmer testnet campaign is finally underway with not one but two exciting activities to earn a total of 1,800,000 $SMR tokens: Test & Earn and Play & Earn!
This is no ordinary campaign, but an epic battle for smart contract activity and social noise on our recently launched ShimmerEVM testnet. Hosted by the Tangle Ecosystem Association*, this voyage is a realistic stress test for the network in order to harden it. Any bugs or potential for improvement found during the campaign will be taken into account before its upcoming full release.
Meanwhile, Treasures of Shimmer offers dApp developers an opportunity to test their integrations and services. At the same time, users are incentivized to take an early look and be rewarded for their time. It's a win-win-win scenario and a lot of fiendish fun.
The first bounty of 1,300,000 SMR doubloons in the Test & Earn campaign will be claimed by the dApps participating in Treasures of Shimmer.
Bounties will be distributed according to generated smart contract activity and, in true pirate manner, shared at the project's discretion with all hands on deck: i.e., you, the users testing the projects. So pick your favorite dApps and test them to the limits: the more you test, the more SMR the projects will receive and forward to you, maybe even along with some native treats. Sail over to the treasure hunt campaign dashboard to find out more about the rivaling crews and the progress of their race for plunder.
And that's just the beginning! We're adding even more excitement to the mix by throwing in another bounty for all you social media swashbucklers who love to make some noise around Shimmer. You can all battle for a share of an extra 500K SMR doubloons by taking part in our Play & Earn quest campaign, hosted by our mates over at Zealy! Arrr, that's a lot of treasure to be looted, me hearties! Now, if your cunning pirate mind has counted right, you must have quickly realized that 1,800,000 SMR in total is up for grabs over the next two weeks!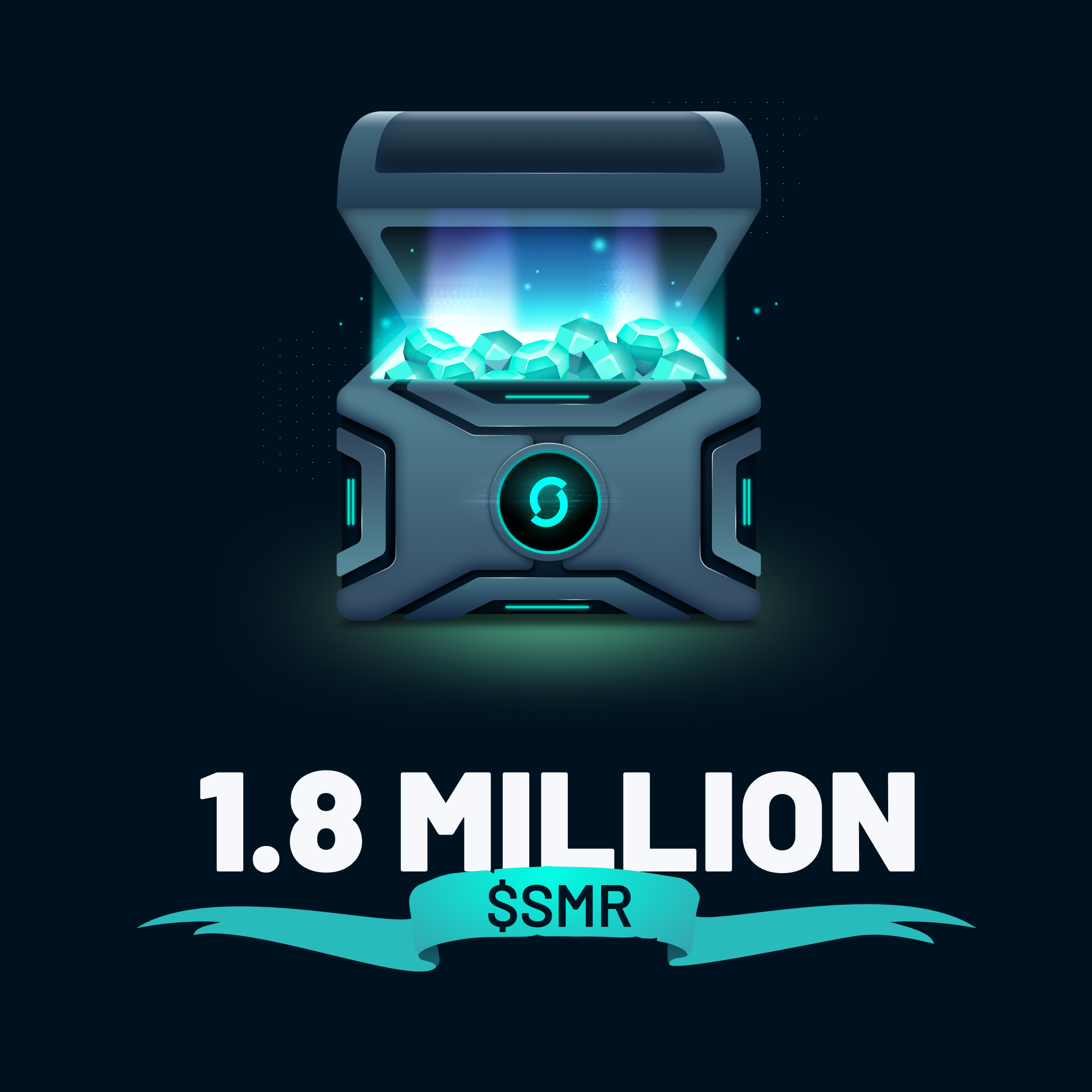 Do you want to get your hands on some of those SMR doubloons? Then continue reading to find out how to earn some of that pirate bounty by testing dApps and taking part in our quest on Zealy. Set sail on this adventure with us and let's find the Treasures of Shimmer together!
Test & Earn and a bottle o'rum!
Arrr, me hearties! Let's Test & Earn by battling for activity on the ShimmerEVM testnet using the brave dApps dipping their toes into the wild treacherous waters of the unknown. This part of the campaign is for everyone who wants to get their hands dirty and earn some juicy $SMR rewards. But before you pick your battleship of a dApp, you just have to complete some simple steps to smoothly navigate the wild seas of our EVM testnet campaign:
Download and install the Metamask wallet. Further instructions are here.
Visit the faucet to get some SMR testnet tokens. Remember, this is a testnet, so no real value is at stake yet.
Go to the Treasures of Shimmer campaign dashboard here to learn more about the competing projects and to pick the dApps of your choice to test.
After informing yourself about the projects and their user instructions on their websites, connect your wallet to your dApp of choice and get started.
Now, set sail until the timbers shimmer! The spoils will be distributed to the competing dApps within 48 hours after the two-week-long treasure hunt. Be sure to read the project's Terms & Conditions to learn more about their airdrop distribution plans.
If you want to learn more about the top contestants and the distribution of rewards, keep your one good eye glued on our Twitter and Discord announcements, and the other one on the campaign dashboard! Arrr!
Raise the Jolly Roger to Play & Earn
All you scallywags may have already laid your pirate paws on some of the Test & Earn bounties, but we know that your thirst for treasure is never quenched. That's why we're offering you the chance to earn even more loot, and this time your actions are the key to success!
We'll be setting sail on a Play & Earn adventure, and we need your help to make a commotion that'll shake the very foundations of the wild crypto sea. Our mates over at Zealy will be lending a hand to make this quest for noise an epic one, so the name of Shimmer will echo across the seven seas. And for the eager among you, head over to their port to read the documentation, learn more about their native XPs and become a Zealy pro: that will help you sail smoothly through this voyage
At the end of this journey, another booty worth a whopping 500,000 shiny SMR tokens is to be split between the loudest and busiest crew members! So gather your wits and your courage, me hearties, and let's set sail on this epic treasure hunt together! Just follow the coordinates carefully below:
Go to our Zealy quest board here.
Connect to Zealy using your Discord account or Metamask wallet address
Connect your Twitter and Discord accounts and add your Shimmer address to your profile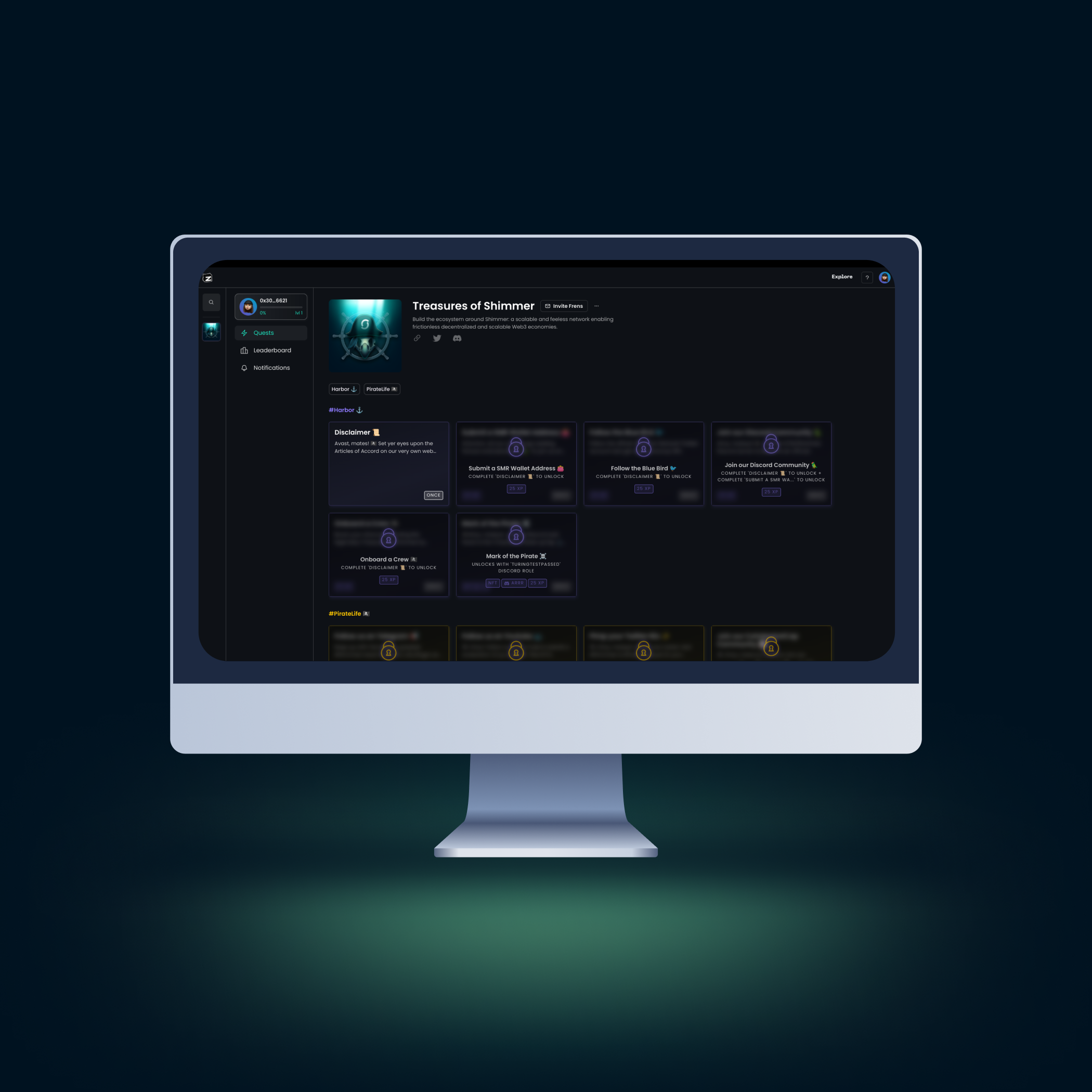 Now that you're all Shimmer treasure hunters, our Zealy quest board is waiting for you to embark on this grand adventure. There are over 20 quests crafted just for you, each one is your chance to earn Zealy's native XPs (the key to unlocking new levels) and not one, but two generous airdrops. But before we hoist the anchor and set sail, let's start at the very beginning of it all.
Every adventure begins in a #Harbor
Let's start at the top of the mighty quest board, the #Harbor. This hub contains all the basic tasks you need to complete to sail smoothly through this journey. From Terms & Conditions to submitting your Shimmer wallet address to connecting with our most essential social media accounts: each task in this hub is a condition for future tasks and having completed all will give you enough XPs to move one level up and to qualify for any airdrops.
Pirate's patron
Listen well, for we want to tell you about the heart and soul of our legendary Shimmer and IOTA community – our pirate's den, or as you landlubbers call it, our Discord server.
Once you step onto our Discord ship, you'll be given the rank of a mighty pirate, for you've already proven your worth by completing all the tasks we've set before you.
And because we've got the coordinates to your very own treasure chest – your Shimmer wallet address – we'll drop a first treasure NFT into it. To keep you safe on the journey ahead, our Treasures of Shimmer campaign NFT features none other than the campaign's patron, the epic Anne Bonny. Bonny was a notorious pirate known for her fierce spirit and love of adventure; hopefully, she'll inspire you to adopt her fearless attitude.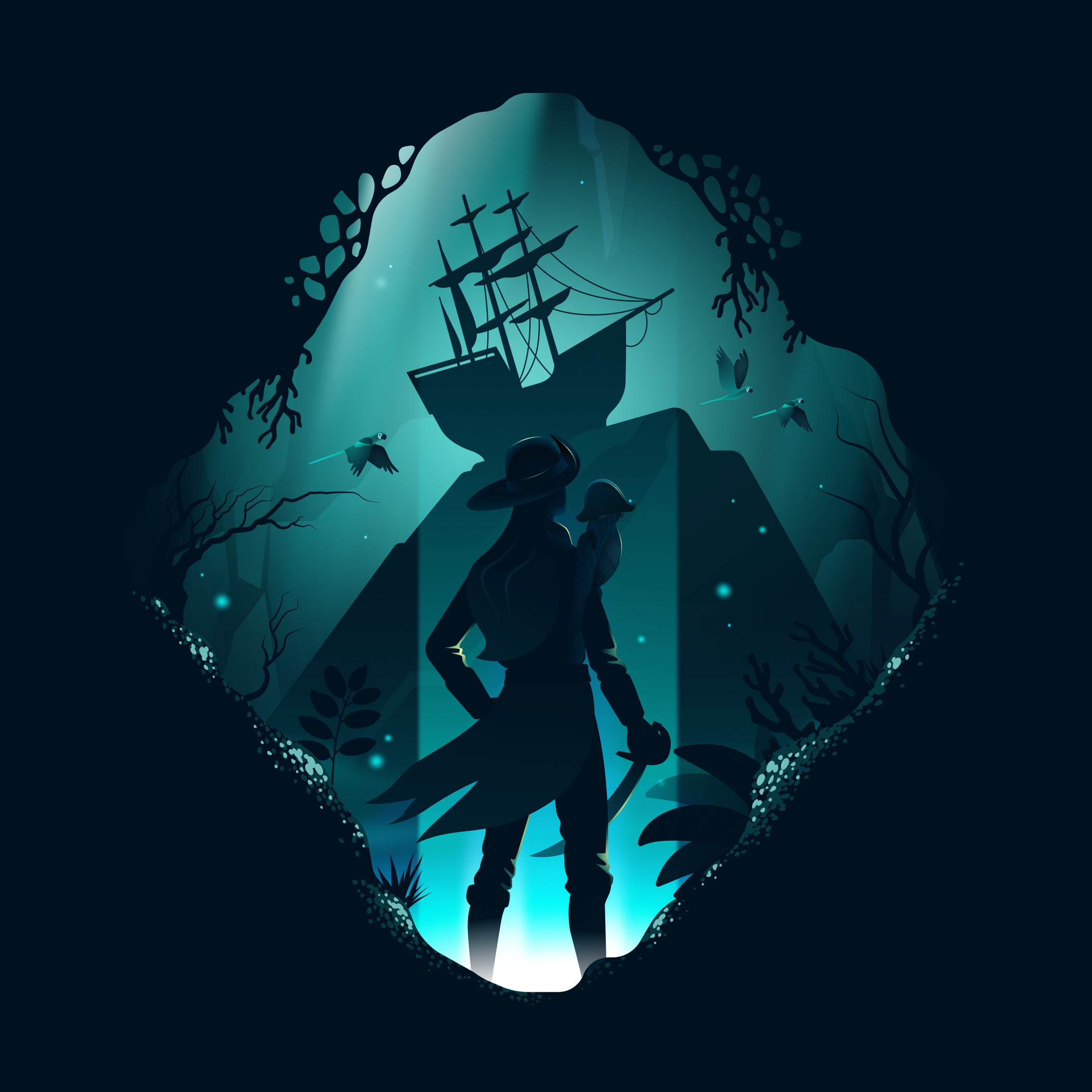 The beat of the drums
Now that you are all set up and with the spirit of Anne Bonny watching over you, it is time to set sail on a treacherous journey into the deep waters of our campaign. Before you lies a map with a series of tasks that suit the most daring and adventurous pirates, all in the name of Shimmer.
The tasks are simple but require you to beat the drums loud and light the fires bright on your (and our!) social accounts. And while some tasks are hidden in the shadows, waiting for their moment to shine, we've created plenty of fun challenges for you to leave your mark in the name of Shimmer.
But heed this warning, me hearties – only those who complete most tasks will be granted enough XPs to unlock participation in our epic airdrops. So hoist the sails and let's set course for adventure, for the treasure of Shimmer awaits us!
Not one, but two treasures
The waters of our testnet campaign might be deep, but we've made sure it is worth it. That's why we hid not only one but two treasures along the sailing route, adding up to a total of ~500,000 SMR. As you have already learned, completing almost all quests is required, so only the most active and busy pirates qualify for these rewards. But for now, we've compiled the most essential information you need to know for each airdrop and how each will be distributed:
Treasure No.1
Treasure No.1 is worth a grand total of ~150,000 SMR tokens, and it's just waiting to be discovered! However, you'll need to meet a few requirements to get your hands on a piece of the treasure. First, you'll need to have earned at least 1,200 XPs to unlock Level 4. If you've been completing tasks like a busy pirate, you should be good to go!
Once you've reached Level 4, you'll need to tweet a message in the name of Shimmer to claim your prize. But don't dilly-dally, because you'll want to be one of the first 500 pirates to complete the task! These lucky few will share ~75,000 SMR tokens, with each pirate receiving ~150 SMR tokens. The remaining ~75,000 SMR tokens will be distributed among the next 5,000 contestants. So get ready to set sail and claim your share of the treasure!
Treasure No.2
Congratulations! You have reached the end of the race and qualified for the final treasure distribution of ~350,000 SMR tokens. You've made Blackbeard himself proud! To participate in the final distribution, you must first gather a minimum of 3,500 XPs and unlock Level 6. Similar to the first reward distribution, only those who are busy and fast enough will succeed.
To unlock your rewards, you must beat the final drum by tweeting a message. The first 500 pirates to spread the message widely will qualify for a share of the ~200,000 SMR reward, with each receiving ~400 SMR. The remaining ~150,000 SMR will be distributed to the next 5,000 pirates, with each receiving ~30 SMR.
Now, it's time to gather your wits, sharpen your cutlasses and hop on board for the greatest treasure hunt of all time: Treasures of Shimmer.
The SMR reward distribution will take place after the campaign ends on May 17, at the latest on May 23.
So get ready to make your sabers rattle and your rum-soaked voices roar across the seven seas. This hunt ain't for the faint of heart but for those that be bold and brave. The Treasures of Shimmer await you! Arrrrr!
---
*Disclaimer
The campaign is run by the Tangle Ecosystem Association ("TEA"), an association established in Switzerland (reg. no. CHE-356.027.165) with its registered address at Industriestrasse 47, 6300 Zug, Switzerland.
The campaign does not constitute any form of investment advice or recommendation or endorsement of the Shimmer token, IOTA token, or any other project. Conduct your own research and due diligence when engaging with any crypto project or service.
The campaign is hosted on Zealy, a third-party platform provided by Freyja Labs SAS. Please see their terms and conditions for more information on how your use of Zealy is regulated. TEA does not control the Zealy platform and makes no representations or warranties regarding Zealy or its use.
In no event shall TEA be liable for any claim, damages, or any other form of liability, whether in action or in tort, arising from or in connection with your participation in the campaign or your usage of Zealy.
By participating in the campaign, you confirm that (i) you are 18+ and (ii) are not an employee of TEA and (iii) you do not live in a country that is on any sanctions list by the EU or Switzerland and that you are not individually listed on any sanctions lists.
Any processing of personal data conducted by TEA will be conducted in accordance with the applicable provisions of the Swiss Data Protection Act and the EU General Data Protection Regulation. We will process your data to manage and carry out the campaign, including paying out any rewards to you. For more information please review our privacy policy. For more information on how Zealy handles your personal data, please review their policy.
TEA reserves the right to terminate the campaign or modify the terms of the campaign at any time.
---
Follow us on our official channels for all the latest Shimmer news:
Discord | Twitter | LinkedIn | Reddit